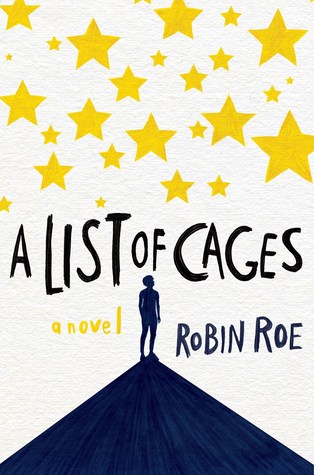 4/5 stars. 
Genres: Young Adult, Contemporary
Series: Standalone

The Story:
When Adam Blake lands the best elective ever in his senior year, serving as an aide to the school psychologist, he thinks he's got it made. Sure, it means a lot of sitting around, which isn't easy for a guy with ADHD, but he can't complain, since he gets to spend the period texting all his friends. Then the doctor asks him to track down the troubled freshman who keeps dodging her, and Adam discovers that the boy is Julian—the foster brother he hasn't seen in five years.
Adam is ecstatic to be reunited. At first, Julian seems like the boy he once knew. He's still kindhearted. He still writes stories and loves picture books meant for little kids. But as they spend more time together, Adam realizes that Julian is keeping secrets, like where he hides during the middle of the day, and what's really going on inside his house. Adam is determined to help him, but his involvement could cost both boys their lives… 
My review:
Honestly, don't touch me right now because MY EYES ARE A SWEATY MESS AND I DON'T EVEN CARE IF THAT SOUNDS EXTREMELY GROSS. I knew this book was going to be an emotional punch in the gut because everyone has been crying and raving about this. This book was heartbreaking from page one because my little Julian.
If you don't know already, I love sad, depressing, and heartbreaking books because I just love the suffering and pain sad books bring. But what I love most about "sad, depressing, and heartbreaking" books is that stay with me for a long long time. I love how they aren't happy fairy tales, but the ugly and harsh truth about our world. This book is one of those kinds of books. And I strongly recommend you pick it up and read it.
! Spoilers ahead?? !
TRIGGER WARNING: Child abuse
A List of Cages is about two teenagers, Julian and Adam who were once foster brothers, but then Julian is taken into custody by an uncle he never knew he had. Ever since, his life is a living fucking hell. Julian's beaten, whipped, isolated and terrified of everything. It was absolutely horrible and heartbreaking to read about this innocent fourteen year old boy being treated like this.
Julian is one of the most sweetest, innocent, and forgiving characters ever. He's one of those people I would like to hug and feed vanilla ice cream with sprinkles on top to everyday !!!! Julian has been through so much a kid his age or anyone's age shouldn't have to go through AT ALL. And reading about his life made me cry so much because no one deserves what he went through. I loved him.
Adam is such an amazing character as well. He was so friendly and lovable towards Julian. He's so caring, lovable, and kind towards everyone. (Except for Julian's asshole uncle which I totally understand.) Also, his ADHD was dealt with absolutely brilliantly. Though I enjoyed reading from his POV, I looked forward to Julians' POV's more.
We seriously need more positive sibling relationships in YA books. The one in this book is one of the freaking best EVER. Like, I'm seriously crying over Adam and Julian's relationship. They love and care for each other so much and they are always there for each other. It's just so beautiful, my God.
Overall, if you're still having doubts about reading this, hit me up and I'll be there to throw this book in your face.