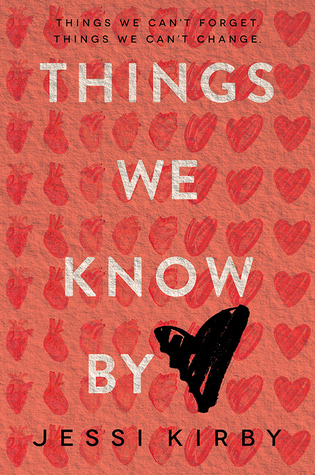 5/5 stars.
Genres: Young Adult, Romance, Contemporary, Realistic Fiction
Series: Standalone

The Story:
When Quinn Sullivan meets the recipient of her boyfriend's donated heart, the two form an unexpected connection.
After Quinn loses her boyfriend, Trent, in an accident their junior year, she reaches out to the recipients of his donated organs in hopes of picking up the pieces of her now-unrecognizable life. She hears back from some of them, but the person who received Trent's heart has remained silent. The essence of a person, she has always believed, is in the heart. If she finds Trent's, then maybe she can have peace once and for all.
Risking everything in order to finally lay her memories to rest, Quinn goes outside the system to track down nineteen-year-old Colton Thomas—a guy whose life has been forever changed by this priceless gift. But what starts as an accidental run-in quickly develops into more, sparking an undeniable attraction. She doesn't want to give in to it—especially since he has no idea how they're connected—but their time together has made Quinn feel alive again. No matter how hard she's falling for Colton, each beat of his heart reminds her of all she's lost…and all that remains at stake. 
My review:
Honestly?? I don't even know who I am right now because I just five starred the most cheesiest, cliché and predictable book with…….INSTA LOVE.
I mean, falling in love with the dude who has your dead boyfriends heart transplant?? Sign me up lmao.
But, there's more than that to this book. It's about taking learning to give yourself the happiness you deserve and moving on. There's nothing wrong with moving on. Yes, it is the absolute worst when someone you loved so so much is taken away and it's okay to be sad, miss them and grieve, but it's also okay to be happy and to live your life.
In Quinn's case, it was falling in love again, spending more time with her family, getting back into running and doing all the things she loves.
The story?
After Quinn's boyfriend died, his organs were given to those who needed them. For closure, Quinn decided to reach out to those with his organs and got responses except from the boy who had Trent's heart.
Quinn decides to track Colton and a lot of cliché shit happens. She doesn't tell him who she is and what started out as a stake-out turns into love.
Listen, believe me you're going to hate this if you can't stand cheesy and cliche shit because boi, this book is filled with it. But if you're into that then oh my god you're going to love this.
▫Colton is the sweetest cinnamon roll ever. I love this guy so!!! much!!!! From Quinn we kniw that he had a pretty bad illness that left him in hospitals, weak and suffering for a very long time. His heart was weak and if not for Trent's, who knows what would have happened to him. 😦 So when he sees a pretty girl (Quinn) he decides to take a chance and fall in love.
He's super sweet. He shows her all the beautiful and right places. He's always trying to please Quinn by taking her to places and he helps her live again!! There isn't an ounce if arrogance or cruelty in this boy. I can 100% assure you, he's made up of sugar cookies.
▫Quinn is a character I really loved. She's depressed and sad her boyfriends gone. She's quiet, kind and shy?? She's also a sweet character and I just lived how much she grew. She went from counting the days Trent's been gone and sinking in grief to someone who is being themselves again. She still misses Trent and he was obviously someone very important in her life, but with the help of her family and Colton, she was able to move on.
I ROOTED FOR COLTON AND QUINN!!!!
Yes it's incredibly cheesy but it's super adorable and honestly I loved it so much and that's all that matters.
▫Quinn's family is also like, the greatest to ever exist. Her sister and parents are literally always there to support her and make sure she's feeling well. They are there to let her know that she shouldn't feel guilty for her happiness. They give her love and support and encourage her to take her time and do what makes her feel content.
Quinn was able to talk about things with her sister. Like, their relationship is do healthy and all the rainbows and cupcake!!! They're best friends and it's wonderful. With some encouragement and help from her sister and father she also starts running again!!!
So like, overall, this book was honestly very great IMO and I love it so so much!!!!!
Reaction right after reading:
CHEESY? ✔
CLICHÉ? ✔
PREDICTABLE? ✔
INSTA LOVE? ✔
TOO CUTE? ✔
HEARTBREAKING? ✔
MADE ME CRY? ✔
SAD? ✔
MADE ME SCREAM AND CRY? ✔
BITCH I LOVED THIS CHEESY, CLICHÉ BALL OF CUTENESS OH MY GOD. FIND ME A COLTON RIGHT NOW, ORDER HIM ON EBAY OR WHATEVER THE FUCK, I NEED.
REVIEW TO COME.